IM BAAAAAAAAAAAAAAAAAAAAAAACK WITH MY NEW NEPHEW!!!
WEE~~!

yep. my sister gave birth to a baby boy on 29th dec 2009 at 0017 hours.
name, Akid Eilhan.
Eilhan as in ilhan.
wee! so exciting!!

welcome baby Akid!
damdils da ade adek!




smile always people! (:


THE ME.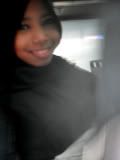 Nur 'Adilah Bint Saadon.
Dila, please. (:
the number 18 and the shape triangle are my trademarks!
Alhamdulillah, am now 16yrs.
i would spray some perfume on myself everyday at home just to feel good. (:

"i got that young love, a teenage love.
they're saying that im too young,
but im not saying im trying to be grown, im just saying that im old enough to know."
THE THINGS TO KNOW.
most of the times, i dont care with what people say about me.
look straight ahead, and be myself.
for sure, throw away all the negative whatever things. slowly.
i forgive, but might not forget.
be strong. always.

LOVE MAKES ME LIVE!
friends and one and only.